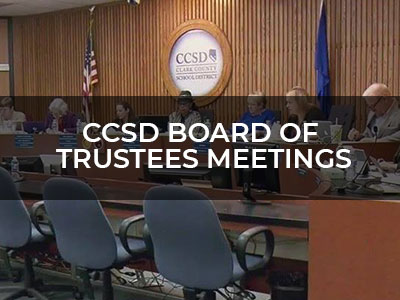 CCSD Board of Trustees Meeting
Event Details
Clark County School District (CCSD) Board of Trustees will be holding a Regular Board Meeting on Thursday 11/8 at 5 PM.
Recently, we received confused signals of what is to be of our retroactive pay for the 2018-2018 school year. Some schools have lost vital positions. There is a fog of confusion as to what will happen over the course of the next 2.5 years with our salary and contract. Many working conditions have been left unchecked and unbalanced for years, leading to the lowest morale among teachers in years.
Our next CCSD School Board Meeting will be held on Thursday, November 8th, starting at 5:00 PM. We encourage members to show up and speak out about the elements that are beyond our control that are affecting our profession: the recently passed negotiated contract has no working conditions addressed and appears to leave a gaping hole open for possible freezes down the road, our crumbling healthcare that has become beyond affordable for any given teacher in CCSD, the growing list of tedious professional responsibilities that often resembles repetitive busy work, etc.
If you wish to speak upon these issues or others you have found that impact your classroom and our profession, please sign up to speak at the next school board meeting! Call (702) 799-1072 to be placed on the speaking list. Board meeting agendas usually come out 7-10 days before a meeting.